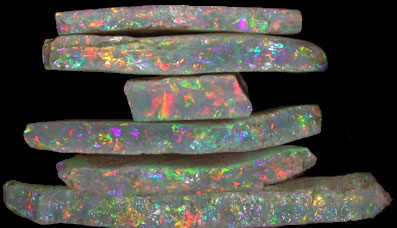 Our Opal turnover is quite rapid and many small but good value parcels are being forwarded on approval to clients who have indicated they are prepared to follow our judgement. Perhaps you too would like to take advantage of this service.
We look forward to dealing with you. – MURRAY W. WILLIS
Currently Australian Opal Mines is a leading marketer of both rough and cut opals throughout the world.
Our opal turnover
Over the last 47 years Australian Opal Mines has sold many millions of dollars worth of rough opal and I believe we are still the largest exporters of rough opal through the post we cater for everyone and sell opals between US$15 to US$50,000 per ounce.
Please take a look at the rough opal on our site for both the hobbyist and the professional opal cutter. If you don't see what you want email Murray preferably with a phone number and he will call you re your opal requirements.
We cater for approximately 900 clients world wide and send regular offers of new stock to any clients who wish to be added to our opal offers list. We'd be happy to receive an email from you to be included on our near weekly "Offers List" there is certainly no obligation to buy if you receive our offers however you may find it difficult to resist many of the opals we offer at such reasonable prices.
Some of the best opal ever mined at Mintubi.
Towns near the opal fields rise and fall. Mintubi is one of the most famous opal fields. Although Coober Pedy is the opal capital, and largest mining area, there are many other smaller mining areas in South Australia. Mintubi (like "meant t' be") is next largest opal town, and at one time was more productive than Coober Pedy.
Probably the largest opal mail order business in the world.
We cater for a range of different clientel from hobbyists to professional gem cutters, from homecraft manufacturers to large commercial manufacturers.
"In the long run our success depends on the prosperity of our clients"
"Murray Willis firmly believes the above statement and does all in his power to make sure the clients of Australian Opal Mines make money. He is only too aware if a client loses money, he will lose a client. After 50 years of experience in the opal game Murray is in a position to ensure that his clients make more out of some of the opal he puts in their hands, than he makes himself. That is why Australian Opal Mines after more than a quarter of a century is here to serve you"
Join our special Offers by email
Now you can sign up to receive new Offers as soon as we get them in!
Just send us your email address and we'll put you on the list!
Special Offers by Email!
You can receive our special Offers by Email !
If you miss one, don't worry, as we'll put links to them here.
Company and Trading Information
'money back if not satisfied'
– that is, if we send you an opal and you are not happy with it, providing you haven't cut it, we will give you your money back.
Here's what some of our customers say
I've been cutting opal since I was 12 years old (almost 50 years cutting now) and buying from you for the last 20 years. I look over everything I've cut in that 20 years and with perhaps one or two exceptions all of the nicest stones, the best surprises, and honestly the best value have been Murray Willis stones. Opals are my passion projects, not my business, but for what it's worth you've made my life richer. Thank you Ben
Here's what some of our customers say
Hello I had a look at your site and I think you do a great job of letting the world know about our opals from Andamooka, I have spent the best part of over 30 years here in Andamooka and I am still learning and finding many of the different types of Opalised gems that Andamooka producers, I haven't been into Opal for the money I am just hooked on the stones and many varieties of Opal from here, The matrix Opal and rainbow matrix is very special and every one is different, but some of the Opalised agates, quartz, quartzites and other sandstones are very special and they only come from this very special place, great site warm regards Greg.
Here's what some of our customers say
I just want to say thanks so much. Every other opal dealer I've purchased from has pretty much ripped me off. You guys always send exactly what I've payed for, and that is immensely appreciated. Mahalo nui loa!
Here's what some of our customers say
Thank you for your time and consideration and effort. I sincerely appreciate it all. I wish you and Murray and the entire Team a wonderful day and a great weekend!. Thank you again for your assistance and support! I love that I get world class customer service experiences with all of you. Individually and as a team! I can't tell you all how much that means to me. I am sure you all know already and hear it often but it is indeed a huge factor when I decide to make a purchase. That combined with the quality of the rough and all the generosity Murray and the whole team show is outstanding and invaluable to me. Thank you.
Here's what some of our customers say
"Your opals are a good topic I still share with my Dad. I think I told you he is in the nursing home. He is 94 and 1/2. Your opals give me something to look forward to. I really enjoy thinking about how to cut them, and I hope I can get back at it soon."
Here's what some of our customers say
"The opal dealers on eBay have no bargains and really have nothing that I can't get for a good or better price from you — and you have the good stuff! You are the only one that I can trust who does."
Here's what some of our customers say
…there was very little waste. 20.55ct of this quality squid, for what I paid you, is a … crime Murray. I expect to have the SA cops arresting me at work tomorrow for theft. … the 2 grand Murray, it has to be worth twice that.
Here's what some of our customers say
About Murray I think very highly of him. He's a rare breed of person who is willing to teach and assist me in ways I hold close to myself. I could sit for, I'm sure, days on end and listen to his life and the experiences he's had. He's had an interesting and intriguing life based on what he has shared with me. If you don't mind me saying this I have complete respect for you as well. He's often spoken about you and I know he is grateful to have you on staff. I can't say it enough that I am extremely grateful and honored that Murray, you, and the rest of the team offer much more than just rough opal. The experience of doing business with you all is a pleasure and a honor to me. All of you have my sincere thanks and appreciation for making my experience so much richer and valuable than I have ever had anywhere else.
Here's what some of our customers say
There is no better opal rough in the world than your gear period. I have cut opal from all major and a few obscure locations around the world, and a few one offs that were just plain unusual opal from our Cascade Mountains, and they all fade next to, and are not as stable as yours in comparison. I can guarantee this to you Murray. Should I ever win the Lotto, or somehow get to where I am sitting on a lot of dollars, I would buy all of your Andamooka straight off.
TR
I just want to say this bracelet is the most beautiful opal I've ever seen made from beads and pictures don't do it justice vs in person. I appreciate communicating with you and doing business with you as well.
This is a piece I will personally keep forever. Also, I am definitely interested in other pieces.
TR
Postal Address
PO BOX 345 MAGILL
SOUTH AUSTRALIA 5072
E-MAIL: aom@australianopalmines.com