The most appealing side of living in the outback, is that the people really fit the picture you see when you hear that parts of Australia are like living in the '50's here in the US. There are seldom any written contracts…and an honorable person is given the freedom to be himself (or herself 🙂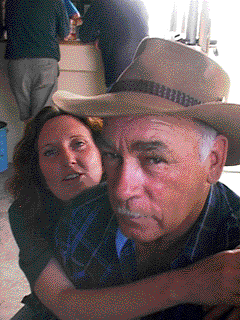 Getting to Coober Pedy
It took more than 24 hours in the air and waiting for connections from Orlando to Los Angeles, direct to Sydney, and then on to Adelaide, so we're already as far away from Geneva Florida as you can get…
Although Adelaide is a bustling city, it is wonderfully clean and truly deserves the description of a city such as Dallas was in the mid 1950's.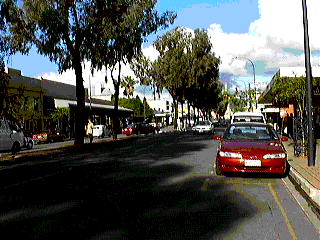 It is certainly more eclectic and multi-national, but with the exception of the state of the technology of cell phones and TV, from the expression on the faces to the advertising, it is a wonderful town out of time.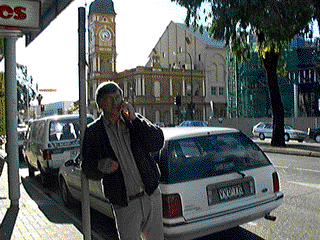 Driving to Coober Pedy is almost like driving across Texas, only the whole way there it's more like driving between San Angelo and Fort Stockton. Arid and eroded, but hardly devoid of life as it had been raining recently, and uncommonly.
There were birds of all sorts, and most specially, the desert was in bloom. There were so many flowers, and it was a great thing to just see the green plants instead of the normal brown and dead sticks.
The hiway out of Adelaide quickly turns to two-lane bitumen, and after Port Augusta, it's two-lane and very dangerous. The Kangaroos are prone to jumping directly into your vehicle, and it's no joke that many Australian cars have 'bullbars' to defend against the chance of a 'roo crossing paths.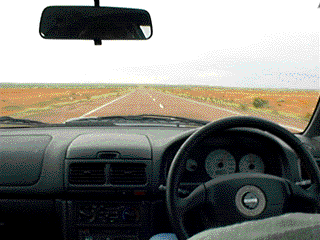 Yup, driver on the right, driving in the left lane !
Also, along the Stuart Hiway between Port Augusta and Darwin, it is legal to run what they call 'truck-trains'. Think of a big 18-wheeler, only three times longer !.
They are limited to 100 Kph, so if they're running legal, you often have to pass one of them. You gotta build up a lot of courage !
Coober Pedy
On hearing that Coober Pedy probably has the highest number of police officers per capita in South Australia, you might think that this is a dangerous place to live.
In a country where it's difficult to get permission to own anything but a single-shot rifle, anyone can readily purchase high explosives. And it is not uncommon for someone to get upset and drop a 'home made sausage' down your hole, or even bomb the police station or newspaper…

Sunrise at Coober Pedy, looking west from the dugout.
No one lives here but those who are interested in the opal. There is nothing else here in this part of the outback.
There are miners, families of miners, tourists, and those who serve the needs of the others.
There is a basic understanding among folks here that transcends 'law'. Anthropologists should study the 'natural civility' that has emerged here, where there are very few lawyers 🙂
Over 40 different nationalities, representing most of the races of this planet, co-exist here. Bosnians, Serbs, Slavics, Greek, Italians, Germans, Chinese, Japanese, English-heritage Australians, Aborigines, all others, and a very few 'Yanks'.
People raise families, teenagers still drag-race in the main street, and still kill themselves. Only the Ampol gas station is open all night. There aren't any 'discos' even for the tourists. But this is the last place you would call 'sleepy' or dull.
Folks work hard and play hard here. But everything is pretty well closed down by midnight, as every next morning begins a working day. You can't be lazy here for very long. The costs are just too high. So every day is a day to mine, or prepare for mining.
There is both a fine public school, and a very up to date college. Only two weeks before my arrival, they had established a local Internet Service Provider. Not that Coober Pedy is behind the times in technology. They already have ISDN and fiber phone lines, as well as a giant wind-driven electric generator.
The town is completely dependent upon the commerce along the two-lane Stuart Hiway, which runs from Darwin to Port Augusta, and upon the regional water wells.
I was amused by the fact that the only day of the week that stood out from the others was the day after the supply trucks arrived at the town's largest food store. All of the town wives and cooks know to come running.
What is comfort ?
For most of my stay, I shared a 'dugout' with Kent. This is a home that is literally dug out of the earth. You might employ someone with a 'tunneling machine' to carve out rooms today, but in yesteryear, you would have dug out your home by hand with nothing more than a pick (and a bit of dynamite) !
Not only is this very convenient given the available equipment, but it is also very energy-efficient as the temperature in a dugout remains very comfortable all thru the year.
Kent's dugout lies beneath the most prominent feature of Coober Pedy, the "Big Winch". It was originally cut by hand, and only later did someone add the outside rooms. In the inner sanctum, it is more obvious that it was hand-cut.
Many folks do live in 'dugouts', and surely the town deserves the name which is a corruption of the Aborigine for something like "White man in a hole". Many of the homes here are completely underground, and some combine facilities above ground and under.
Although the town is now declared to be a 'no mining' zone, it is still legal to dig as long as you stay within your own property lines.
It must be a thrill to be able to dig out a new bedroom for your daughter and discover enough opal to pay for the work and maybe even for some new furniture!
So what am I doing here ?
It was not my intention to be a tourist at Coober Pedy. I had been here for three weeks, four years before. So I knew what to expect, as far as the town was concerned, but this time I would be working in a mine that was 'showing color'…
I need to know this experience. I don't think that I will ever be a 'real' miner, but I love the opal and I have a deep desire to understand just how it 'comes'.
I got what I came for, and even more. But my memory is more full of the images of the faces of the towns folk and those of fellows I worked with every day.
My Mates
I worked the whole time with Kent and Milton, getting up early, gathering supplies, driving to the mine, and working at the face of the mine until it got too hot. There were a couple of days that I played hookey and visited other mines, or just washed the clothes.
We ate out some nites, or tried to watch a rental video in an environment where dust is on every surface, and the days became a very pleasant routine.
For the last week that I was in Coober Pedy, I was politely encouraged to sleep at Milton's home, as Kent's girlfriend Louise was in town…
My time with Milton was very special, and I cherish the memory of each morning, eating boiled eggs and sipping coffee, listening to the Greek language version of the news, and waiting for Kent to pick us up on the way to the mine.
It is not uncommon to meet folks who have been here for 30 or 35 years, and who have established themselves in the town as permanent fixures.
Some are buyers, some are miners. And the core of the town is made up of folks like Milton Morias.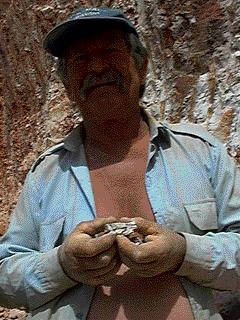 Many of the miners here have other jobs or contracts which allow them to come here occasionally. Some have been here continuously. It is a disease.
Milton was born in Greece, on Mount Olympus, and came to Australia in the early '60's and with occasional jobs as an engineer, he has been mining for the opal as much as anyone. I'm sure that it didn't take long before Milton became a permanent fixture in this town.
In a remote location like this, it is certainly a great achievement to become known by name in every shop and restaurant.
It's another thing to also have a reputation of integrity. Milton has both.
And as an aside, he is a wonderfully tolerant teacher. Working with me in the mine, responding to my occasional promts that he look at some 'trace' that I had discovered. Sometimes with a grunt of 'Powtch' (worthless), and even sometimes with a wonderful "Guuuud Mike !" and I'd quickly move back to let him pick more expertly than I.
Kent
Milton and I were the 'checkers', but Kent did all of the 'delicate' work.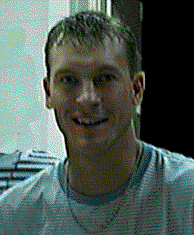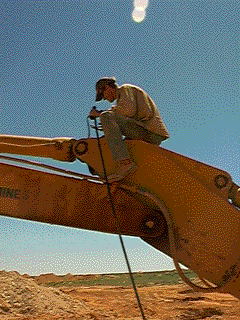 Kent has been around the opal fields all his life, as the son of Murray Willis, but for the past 5 years he has been mining as a major partner, and learning to be a very adept excavator operator and opal miner.
I met Kent even before Murray. I believe that I met him while he was on his first opal sales trip to the US, and the first three weeks that he was on the field as an excavator operator, I was with him. It seems appropriate that I would be here for the last of his first 'career'.
He has made a real go of it, and truly has made a number of finds which have not only paid the bills, and the helpers, but have also paid for a great deal of repairs to the excavator and tools for maintaining it. All in all, there's been a profit to the partnership, but it is very strong statement about the value of the opal, that there hasn't been any Solomon's mine found in 5 years.
Back to the 'ruse' for this trip:
What does an opal mine look like and what's it like to work there every day ?